---
---
---
Kontakt
Verantwortlich:
Prof. Dr. Kay Saalwächter
Telefon: 0345 5528560
Telefax: 0345 5527161
kay.saalwaechter@physik.uni...
Raum 201.2
Betty-Heimann-Straße 7
06129 Halle
Postanschrift:
Martin-Luther-Universität Halle-Wittenberg
Naturwissenschaftliche Fakultät II
Institut für Physik
Experimentelle Physik (Hochfrequenzspektroskopie)
Betty-Heimann-Straße 7
06120 Halle (Saale)
GERMANY
---
---
Login für Redakteure
---
NMR investigations of membrane-polyphile adducts
Modification of structure and lipid dynamics
---
The goal of this project is a comprehensive NMR-spectroscopic characterization of the membrane-modifying properties of the polyphilic molecules that are synthesized in projects 1 and 3, and which are investigated with complementary methods in the other projects. Due to its chemical regio-selectivity, solid-state NMR is more suited than any other method to shed light on the molecular mechanisms of membrane property modifcations. We expect fundamental new insights into the different modes of interaction of complex, polyphilic molecules with membranes, and our model studies will also lead to a better understanding of biological systems, where the membrane activity of pharmaceutically active substances is of considerable interest. To this end, we will use different methods to (i) investigate the structural arrrangement of the guest molecules on or within the lipid membrane, and to (ii) characterize the changes in the membrane properties, to ultimately get a complete picture of the interaction mechanisms. The principle of spin diffusion experiments clarifying the structural arrangement of the polyphilic molecules in the membrane is shown in Fig. 1.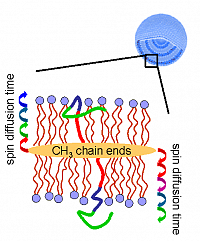 Fig. 1: Principle of spin diffusion experiments characterizing the structural arrangement of a polyphilic molecule in a membrane. The samples are usually investigated in the form of multilamellar vesicles (MLVs).
Using special magnetization filters, the first step is the selection of the methyl end group proton signal. Spin exchange processes then lead to a "diffusion" of the magnetization towards the membrane surface. After a variable time the 1H magnetization can be transferred to nearby 13C nuclei, and the order of appearance of 13C signals of the different building blocks of the polyphile gives the desired structural information. For the topical area II we study the reorientation dynamics of the head groups via their 31P signals, and also via dipole-dipole and quadrupole interactions of the lipid chains. Diffusion experiments will be used to study the transport of solvent molecules (water) through the membrane. Most of these studies will be carried out in oriented samples, for which dedicated equipment exists in our laboratory (see Fig. 2).
Fig. 2: Probe head for the automated acquisition of angle-dependent NMR spectra of oriented samples. The apparatus allows for fast sample flips from b = 0° to up to 90° within 150 ms. A sample application can be found in K. Severing, K. Saalwächter, Phys. Rev. Lett. 92 (2004) 125501.
---
---