Microscopy and Functionalization of Hybrid Membranes from Phospholipids and Synthetic Polyphiles
The aim of the project is to characterize the interactions of polyphilic synthetic molecules with phospholipid membranes. Lipid monolayers as well as bilayers serve as model membranes. The influence of synthetic polyphilic molecules on the phospholipid membranes and the formation of hybrid membranes consisting of synthetic and biological polyphiles are investigated by confocal fluorescence microscopy and cryo-electron microscopy. Recently established cryo-electron microscopy allows to examine the hybrid membranes at high spatial resolution. To complement the picture with temporal information, single molecule sensitive fluorescence fluctuation spectroscopy is used. Fluorescence signals are analyzed in space and time to reveal potential lateral clustering within hybrid membranes. Moreover, hybrid membranes are functionalized with proteins and analyzed by adopting biochemical methods.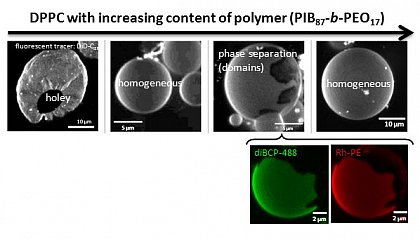 Fig. 1: Confocal projection images of hybrid giant unilamellar vesicle (GUV) membranes from DPPC and the diblock copolymer PIB87-b-PEO17. The polymer suppresses the faceted and holey morphology of DPPC GUVs. Depending on the polymer content, phase separation into polymer-enriched and lipid-enriched domains occcurs. The polymer-enriched phase is preferentially labeled by a labeled polymer (diBCP-488) and by fluorescent lipid analogs (DiD-C18, Rh-PE). Schulz et al., Soft Matter (2011).

Fig. 2: Confocal projection images of phase-separated GUVs from DPPC and the diblock copolymer PIB87-b-PEO17. CdSe-nanoparticles and a PEO-binding antibody localize to the polymer-enriched domains. The protein cholera toxin B binds to the glycolipid GM1. Olubummo et al., ACS Nano (2012), Schulz et al., Angew. Chem. Int. Ed. (2012).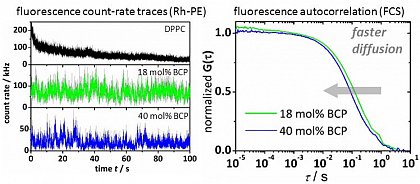 Fig. 3: Count-rate traces of marker fluorescence in fluorescence correlation spectrosocpy (FCS) experiments. Photobleacing of the marker in the pure DPPC gel phase indicates immobility. Marker mobility is strongly increased in membranes containing the block copolymer (PIB87-b-PEO17). Fluorescence correlation spectroscopy enables a quantitative comparison of diffusion coefficients at 18 mol% BCP (D = 1.2 x 10-13 m²/s) and at 40 mol% BPC (D = 1.6 x 10-13 m²/s). Schulz et al., Angew. Chem. Int. Ed. (2012).
Synthetic block copolymer polyphiles prepared in TP2 (Binder) and TP3 (Kressler) as well as low molecular weight X- and T-shaped polyphiles from TP1 (Tschierske) are studied in conjunction with phospholipid membranes. Physicochemical characterization of monolayers is carried out in collaboration with TP4 (Blume). The studies of demixing phenomena using optical techniques are complementary to the molecular studies using NMR spectroscopy (TP5 Saalwächter) and numerical simulations (TP7 Sebastiani).
Link to Group Webpage: www.halomem.de
---
---